There is nothing more surreal than creating these vegetarian salad recipes and of course eating them. The best part is that you don't have to cook anything to make these colourful masterpieces.
Best vegetarian salad recipes
Here I am sharing these yummy healthy and easy to make vegetarian salad recipes.
1.Strawberry Feta Spinach Salad
If you love strawberries, then this salad has the capacity to become one of your favourite ways to eat strawberries. Feta adds extra flavour and taste to this colourful salad.
Check the recipe here.
2. Instant pot Mexican Street Corn Salad
The Instant pot Mexican corn salad or Elote is sweet corn salad, topped with creamy dressing, cheese and cilantro. The heat comes from the jalapeno and this little heat enhances the sweetness of the corn.
Check the recipe here
3. Simple Strawberry and Kale Salad
There is no better way to eat strawberries than this simple yet colourful salad.
Check the recipe by Sustain my cooking habit
4. Crunchy Whole30 Asian Salad & Orange Dressing
This is a beautiful Whole30 Asian salad recipe made from colourful healthy vegetables and drizzled with flavourful Ginger-Tahini Orange Salad dressing.
Check for the recipe at cookathomemom
5. Easy roasted corn Esquites Recipes
This is a Mexican street corn salad recipe made with frozen roasted corn and topped with a tangy creamy lime-based dressing.
Check recipe at Wholelottayum
5. Pomegranate Wild Rice Christmas Salad
I am sure this Pomegranate wild rice salad can be a great side dish for your holiday and family get-togethers.
Check Staceyhomemaker for recipe
6. Fresh Garden Salad Gondolas with Beetroot
If you are looking for a fresh salad made from fresh veggies, this salad recipe is for you. Prepare this healthy and simple salad with the available seasonal veggies.
For the recipe, check mypureplants
7. Taco Salad with Fritos
If you like salad trifles, you will love this taco salad. If you are looking for a different type of recipe for salads, try this one. I am sure you will love this.
Check Dancingthroughtherain for recipe
8. Farro Salad with Baby Kale
Farro is an ancient grain which cooks easily and provides many health benefits. Prepare this Vegan Farro salad recipe with chickpeas and dijon mustard dressing.
Check Healingtomato for recipe
9. Massaged Kale and Quinoa Salad (Oil-Free)
This salad recipe is great for who are looking for a light lunch which can provide some protein also. No oil in this salad means you will not get any extra calories.
For the full recipe, check Veggieinspired
10. Asian Chopped Salad with Sesame Ginger Dressing
This is a simple recipe of getting all the ingredients together and topping with sesame ginger dressing.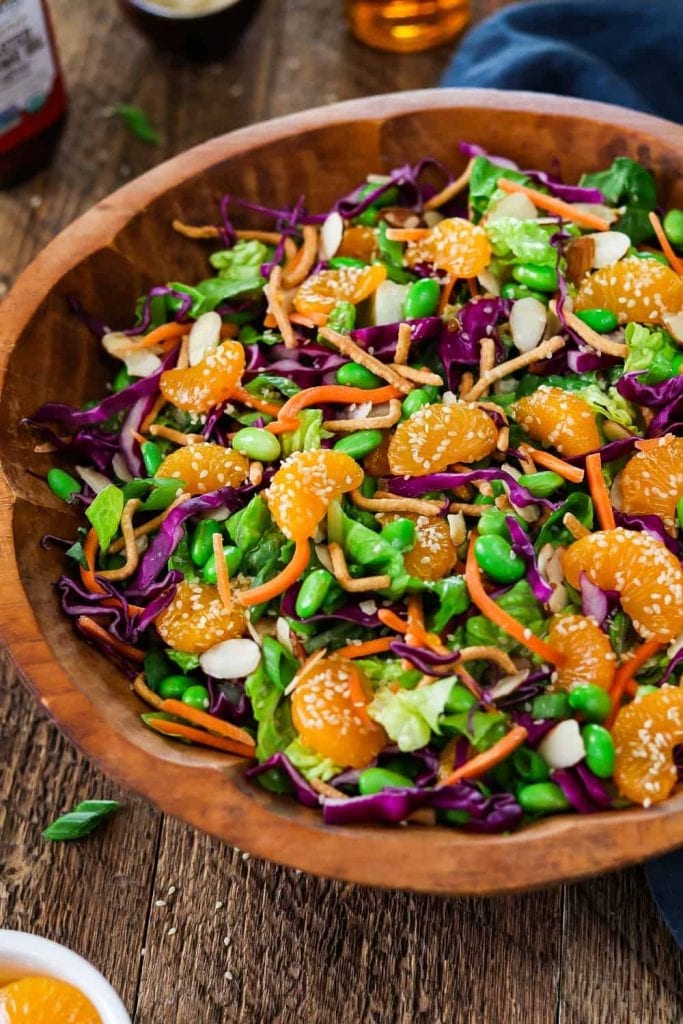 For the recipe, check Veganhuggs
11. Snap Pea Salad with Goat Feta
This snap pea salad is sweet and tangy with the flavours of lemon zest and goat fetta. Enjoy this hearty and yummy salad with any meal or eat at lunch.
For recipe check Dishnthekitchen.
12. Baby Kale Salad
One of my favourite greens is kale and this baby Kale salad is loved due to the crunchiness from walnuts and tanginess and sweetness from the vinaigrette.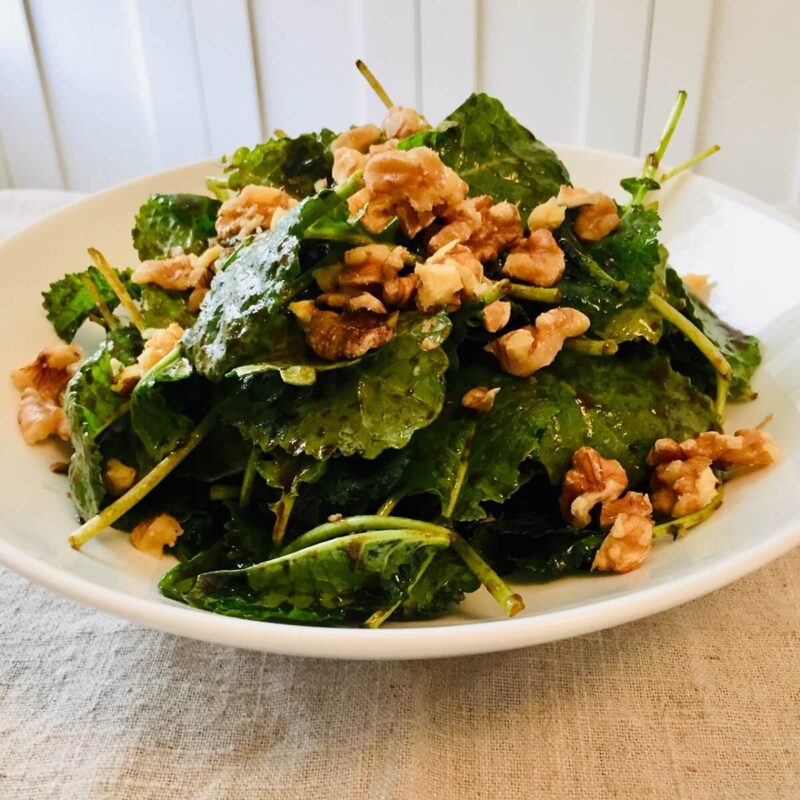 For the recipe, check Asweetalternative
13. Cranberry, Pecan and Blue Cheese Salad
This cranberry, pecan and blue cheese can be your best side dish to accompany holiday meals. Dressing for this salad gives it a distinct flavour.
Find out the recipe on Jersygirlcooks
14. Orange, Cranberry, Quinoa Salad
This salad is filling as well as tasty. It is packed with protein nutrients and vitamins. Orange and apple cider vinaigrette makes it delicious.
Find out the recipe at Inthekidskitchen
15. Asian Crunchy Noodle Salad
Noodles are a major ingredient in many cuisines. This noodle salad is a healthy noodle salad with the added vegetables. All the ingredients and dressing provides a distinct flavour to this salad.
Find the recipe on Thisoldgal
16. Celery Salad with Parmesan
This few ingredients and refreshing salad take 10 minutes to make. Not only this, it is low on calories and fat as well as packed with vitamins and nutrients.
Find the recipe on Theclevermeal
17. Fall Harvest Salad with Roasted Vegetables & wild rice
Enjoy his veggie-packed Harvest Salad can be eaten at dinners, lunch or as a side dish. This filling salad gets its spiciness from spicy maple vinaigrette.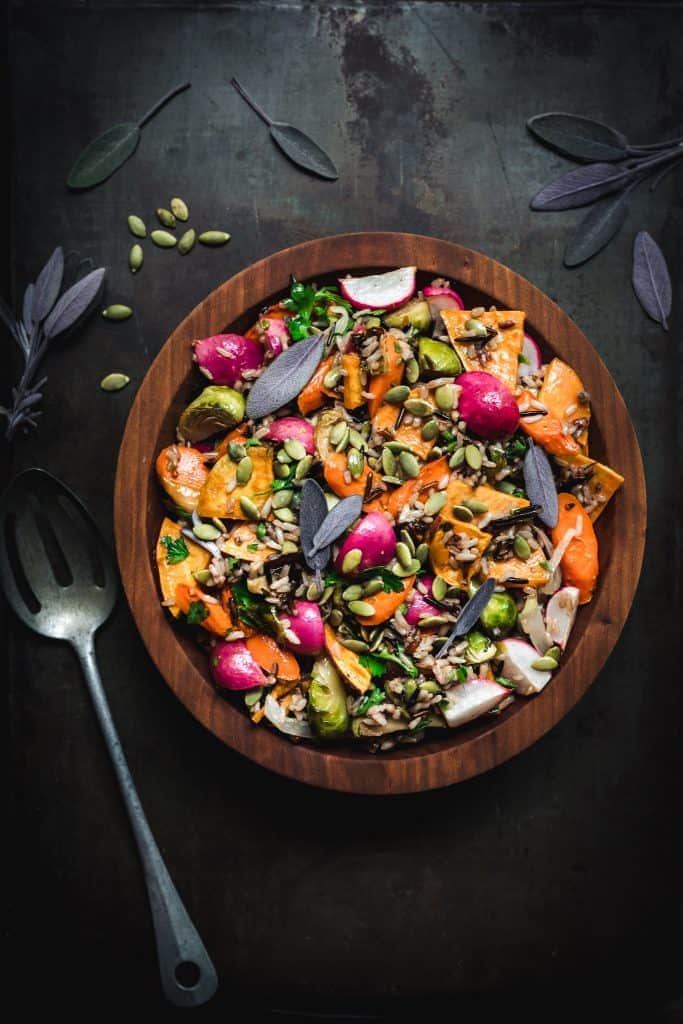 Find the recipe on Crowdedkitchen
18. Vegan Autumn Kale Salad with Roasted Shiitakes
This salad is made from kale, chickpeas, sweet potatoes and roasted shiitakes with maple mustard dressing.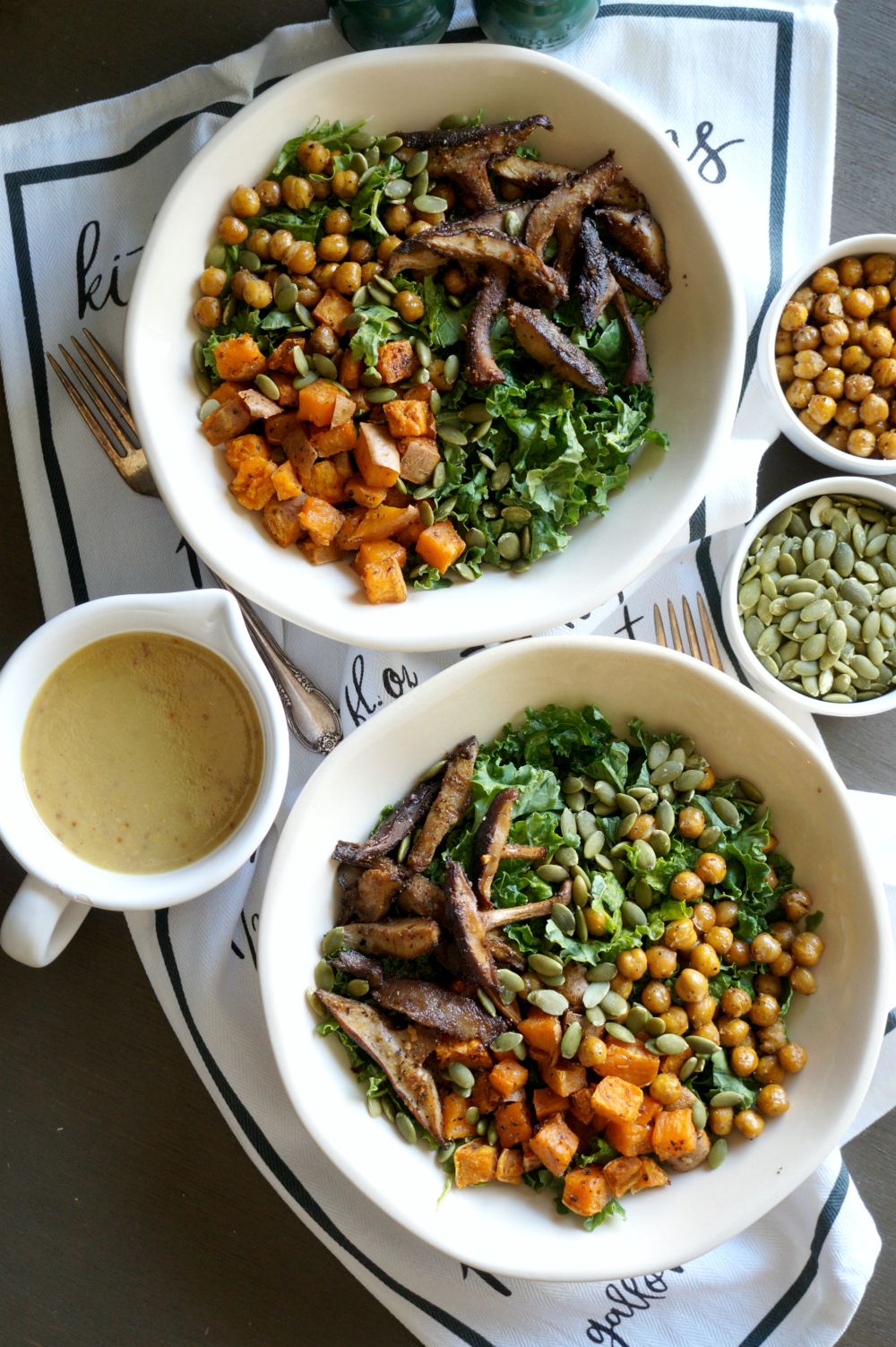 Find the recipe on Thebakingfairy
19. Harissa Potato Salad
Two types of potatoes, broccoli, and eggplant roasted to perfection and paired with a smoky and spicy harissa sauce. A harissa potato salad, gluten-free, vegan, and paleo, that will elevate your bland dinner side dish to an all-new level!
Find out the recipe on Strengthandsunshine
20. Grilled eggplant salad is one of the best vegetarian salads
This is a low carb grilled eggplant salad which is perfect for summers. I know the whole world is engulfed in cold winters but we here in Australia are having a hot scorching summer. This salad recipe is perfect for summertime.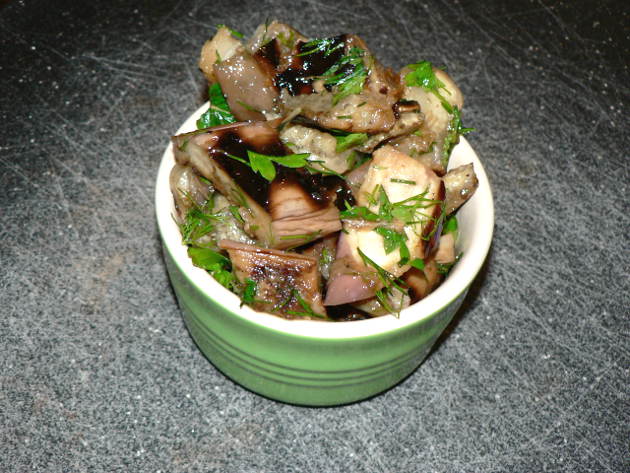 Find the recipe on Tastygalaxy
21. Vegetarian Greek Quinoa salad
This salad is packed with proteins provided by Quinoa. You can add any ingredients you want. The beauty of this salad is that you can add any ingredients according to availability and taste.
Find out the recipe on Moneywisemoms
22. Cranberry Walnut blueberry Cheese
You will love this salad and blue cheese in it even if you are not a blue cheese fan. Topped with sweet onion Vidalia dressing, this can become your go-to salad for lunch.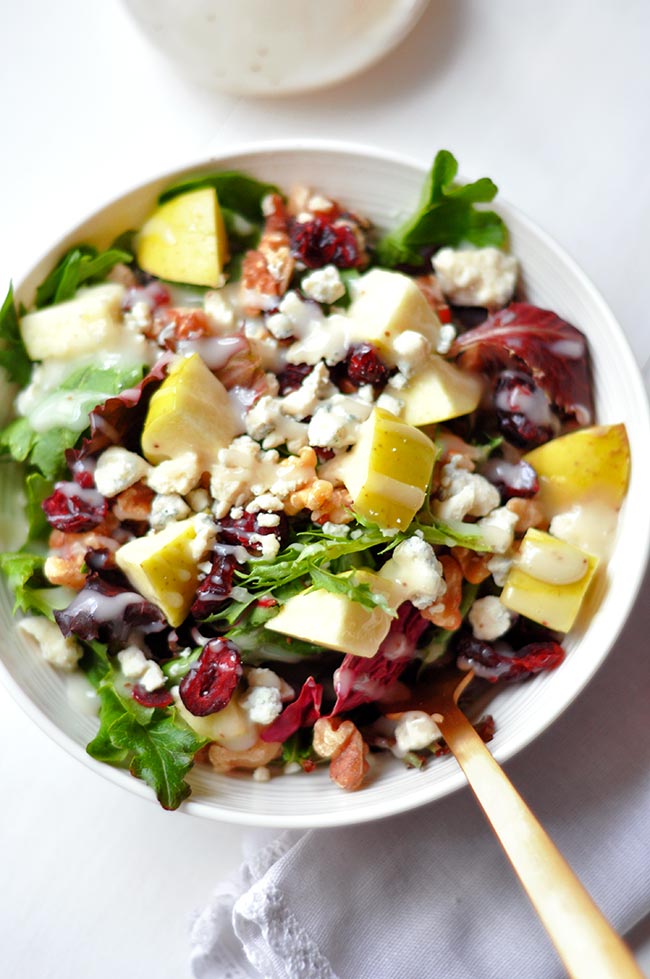 Check for the recipe: Mightymrs
23. Greek Potato Salad
Make this Greek Potato Salad once and it will become your go-to side dish for all picnics and barbecues. This healthy potato salad contains no mayonnaise, is gluten-free, vegetarian and above all delicious
Check out the recipe at supergoldenblakes
24. Apple Walnut Broccoli Salad
This sweet and savoury Broccoli Salad is made with apple and walnuts, where the crunch comes from walnuts.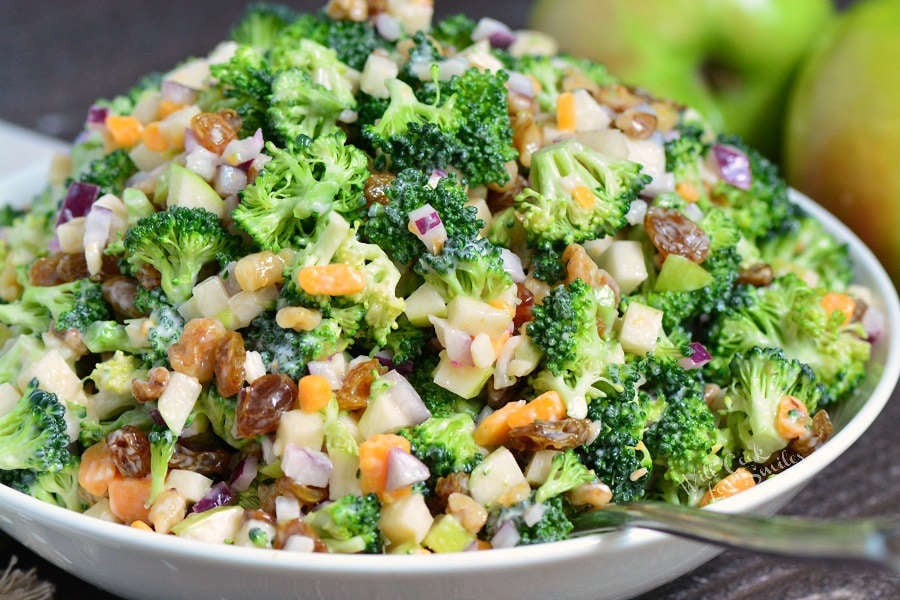 Check out the full recipe at Willcookforsmiles
These salad recipes can be your best healthy foods after Christmas and New year celebrations. Addition of healthy fruits and vegetables can help you in controlling your weight after eating heartfully during holidays.
How to make Mushroom Capsicum Side dish
📌If you like my post, don't forget to follow me on Pinterest🙂